Button Box Interface BBI-32
---
Size: 3.370 x 2.125 in (85.60 x 53.98 mm.)
In other words exactly the size of a standard credit card.

Finished in monochrome - black and (real) gold.
Hardware can look beautiful.

Input capability:
Up to 32 buttons or switches.
Up to 16 encoders. All popular encoder types - one, two and four transitions per "click" (CTS, ELMA, ALPS.)
Up to 11 rotary switches (12 positions each.)

Rotary switches connect with only two wires each.

+5V power for illuminated switches or extra LEDs.

Two models available:
Model 1: Solderless, push-in terminals. Everybody's favourite.
Model 2: No terminals but large, clearly marked solder pads on the PCB for direct soldering on. Artisan / budget version.

Everything from concept sketch and hardware design to the last bit in firmware code created by yours truly on the Silverstone circuit. Without globalisation or outsourcing.
Rotary encoders configuration software
---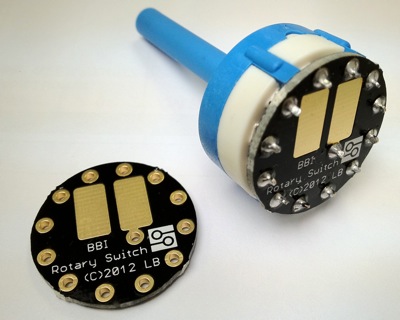 ---
---
© 2012-2017 Leo Bodnar
email